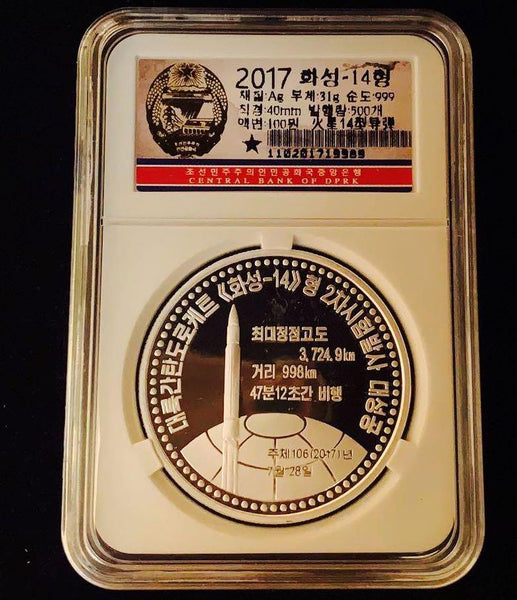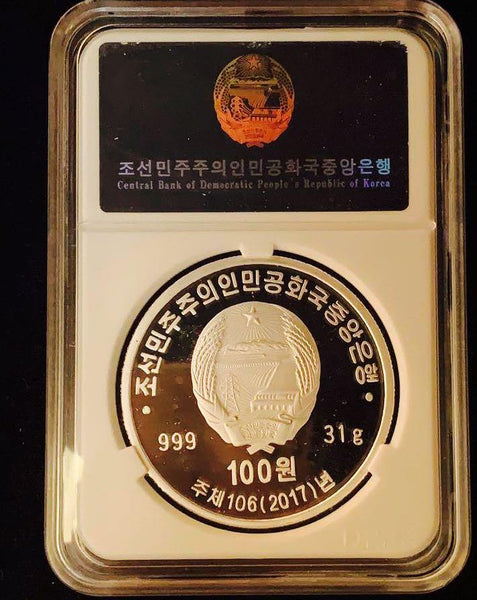 2017 Korea 100 Won, 1 oz. Political Theme The Intercontinental Ballistic Missile "Hwasong-14" (Launched on US Independence Day), Mint. < 500. Silver Proof Coin.
The offer here a rarely available 2017 Korea 100 Won, 1 oz. Political Theme The Intercontinental Ballistic Missile "Hwasong-14" (Launched on US Independence Day), Mint. < 500. 40 mm 31 Grs.
Comes in the original slab acrylic box.
The coin is in fully mint brilliantly uncirculated condition.
Country.     Korea
Subject.      The Intercontinental Ballistic Missile "Hwasong-14"
Launched on US Independence Day 2017.
Value.          100 Won.999
Composition. Silver
Weight.        31 Grs.
- Hwasong-14, Launched on US Independence Day 2017: -
The Hwasong-14, is a mobile intercontinental ballistic missile developed by Korea. It had its maiden flight on 4 July 2017, which coincided with the United States' Independence Day. North Korea is the only known operator of this missile.
The Hwasong-14 is likely a two-staged version of the Hwasong-12 first tested in May 2017. The second stage appears to have increased its range.[ The first stage engine appears very similar to the Hwasong-12. With a single liquid fuel engine, it has four Vernier thrusters for stability and guidance.
A detailed analysis by the Bulletin of the Atomic Scientists claims that the current variant of the Hwasong-14 may not even be capable of delivering a first-generation nuclear warhead to Anchorage, Alaska. But even if North Korea is now capable of fabricating a relatively light-weight, "miniaturised" atomic bomb that can survive the extreme reentry environments of long-range rocket delivery, it will, with certainty, not be able to deliver such an atomic bomb to the lower 48 states of the United States with the rocket tested on July 3 and July 28.
The missile is launched from a detachable platform on a concrete pad. This could have several operational ramifications. It may increase the time required to launch the Hwasong-12, and limit the number of launch locations to pre-sited and pre-constructed launch pads.
The first publicly announced flight test was on 4 July 2017, to coincide with the US Independence Day celebrations. This flight had a claimed range of 933 kilometres (580 mi) eastwards into the Sea of Japan (East Sea of Korea) and reached an altitude of 2,802 kilometres (9,193,000 ft) during a 39-minute flight.
This range was deliberately shortened, to avoid encroaching on other nations' territory, by 'lofting' the missile: firing it on a trajectory that was inefficiently high, rather than optimised for range. This allows the missile's performance to be tested and demonstrated, without requiring a huge test range.
A prediction for the possible range, following an optimum trajectory, has been given at 6,700 kilometres (4,200 mi) or as much as 10,400 kilometres (6,500 mi) not taking into account the Earth's rotation. If true, then this brings the U.S. states of Alaska and Hawaii within the missile's range.
Preparations for a second test flight were detected by US intelligence as early as 20 July. On 28 July, the missile was fired at 11:41 p.m local time, the first time which a night time launch was carried out. The missile was fired at a lofted trajectory with apogee of 3,700 km (2,300 mi), landing 998 km (620 mi) away with a total flight time of approximately 47 minutes. Based on the data from the test flight, if the missile were fired at the optimal efficient trajectory, it is predicted that the maximum effective range would exceed 10,000 km (6,200 mi). If factoring in the rotation of the Earth, which may provide a range boost when travelling eastward, the Hwasong-14's coverage area would include the US West Coast, Chicago, and possibly even New York, but only with a substantially reduced payload.
    . ~AU'Listings~ .                .~Au'Coins~.