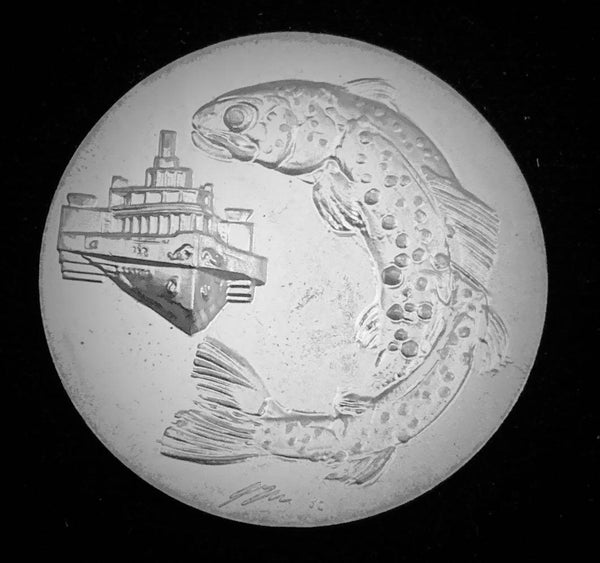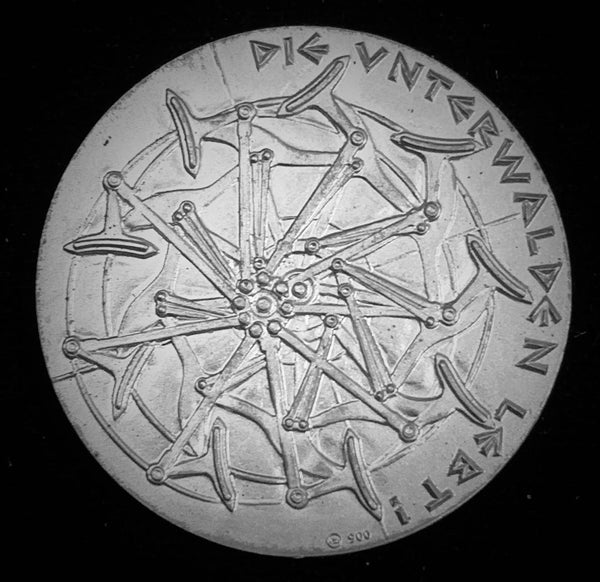 1983 Switzerland "Boat Unterwalden" Hans Erni Silver Medal.
1983 Switzerland Boat Unterwalden Hans Erni Silver Medal. Exceptionally elevated surface reliefs, original lustrous Bu/UNC Condition. Artistically designed with striking eye-appeal. Limited Mint.

Country:       Switzerland
Year:             1983
Subject:        Boat Unterwalden
Material:       Silver, Ag (0.900)
Size:             34 mm
Weight:        20 grams
Artist:           Hans Erni

- About the Steamer Unterwalden: -
Of the 5 paddle steamers in the lake Lucerne fleet Unterwalden has had the most varied history. She was launched on 12th November 1901 and entered service on the 18th May 1902, she is the second oldest of the steamship fleet. It was in 1920 that she was fitted with a wheelhouse to protect the captains and helmsmen from the elements having had an open bridge when first built. On 30th October 1923 while sailing through thick fog in darkness she ran aground at Beckenried suffering considerable damage. She also sustained damage in February 1956 when she crashed into the lake wall at Kehrsiten Dorf.

By 1960 her boilers required attention and were re-tubed this also providing the opportunity to remodel the ship to allow her to pass under the new Acheregg Bridge. The masts, funnel and wheelhouse were replaced allowing the masts to fold with the funnel and wheelhouse being able to be lowered as required. The rear upper deck was given an aluminium roof in place of the former canvas one. By the mid 1970's her condition was giving cause for concern with plans made for her withdrawal from service to form an exhibit at the Swiss Transport Museum. In 1976 a newly built motor vessel was named Unterwalden and the paddle steamer Unterwalden made her last trip on the 22nd September 1977. After a few years of laying in a poor condition a major rebuild began in 1982 lasting till 1985 when she was relaunched and the new motor vessel was renamed Europa.

By 2007 it was becoming clear that her original boilers had reached the end of their working lives and would have to be replaced. The current rebuild has replaced the two original boilers with one larger boiler. It has also allowed much of the superstructure and interiors to be restored to as much like their original pre-1961 state, as far as possible, while still allowing her to sail under the Acheregg Bridge. The funnel, wheelhouse and masts will still be able to be lowered but the appearance of the funnel in particular will be more like the other members of the steamer fleet.

- About the Engraver: Hans Erni: -
Hans Erni (February 21, 1909 – March 21, 2015) was a Swiss graphic designer, painter, illustrator, engraver and sculptor. Born in Lucerne, the third of eight siblings, to a cabin cruiser engineer, he studied art at the Académie Julian in Paris and later in Berlin, and admired artists such as Pablo Picasso and Georges Braque.

He is known for having illustrated postage stamps, his lithographs for the Swiss Red Cross, his participation on the Olympic Committee as well as his activism. His 1939 works and first major public success was a mural titled Switzerland: "Vacation Land of the People" was commissioned and displayed for the national exhibition in Zürich.

The Hans Erni Museum, situated in the grounds of the Swiss Museum of Transport in Lucerne, contains a large collection of artwork, he also designed ceramics and theatre costumes and sets. He did the art for Swiss bank notes, in the 1940s but, after the notes were already printed they were never published, because a member of the State Council of Lucerne criticized that Erni was deemed as a communist. However, Erni was never a member of any political party. In 2004, he was awarded the honorary citizenship of the city of Lucerne. On 10 January 2009 he received the SwissAward for lifetime accomplishment.

In his career, he realized about 300 posters and several murals — including for the 1980 Salon international de l'automobile, Red Cross, IOC, United Nations and ICAO. He illustrated about 200 books and created 90 Postage stamps and 25 medals.
   . ~AU'Listings~ .                         .~Au'Medals~.