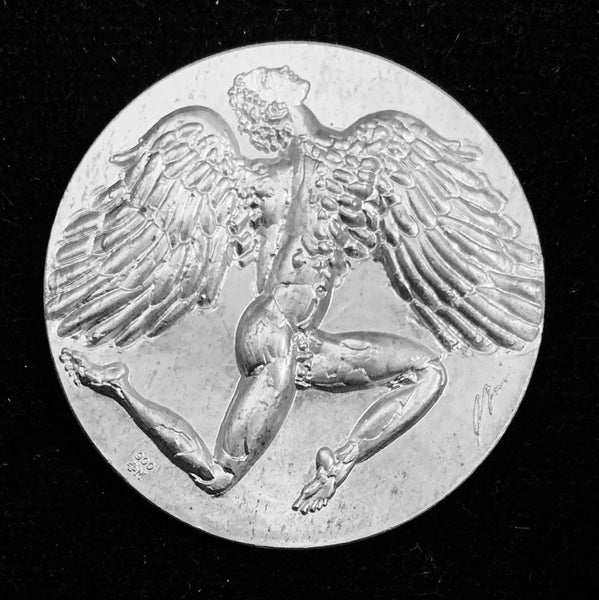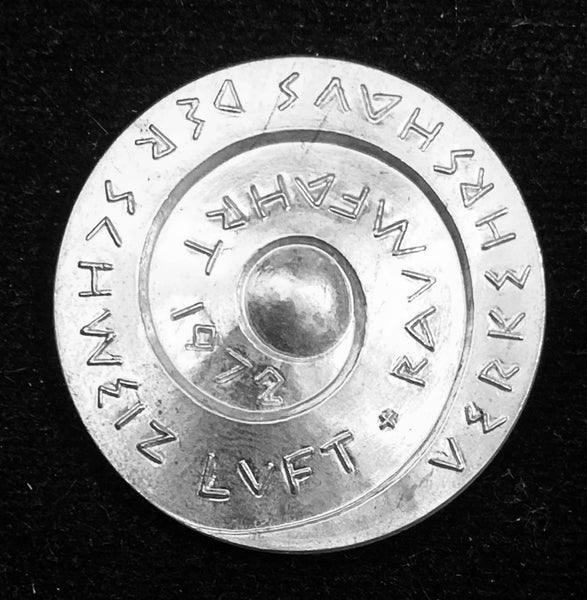 1972 Switzerland "Swiss Transport Museum Aerospace - Icarus" Hans Erni Silver Medal
1972 Switzerland Swiss Transport Museum Aerospace Icarus Hans Erni Silver Medal. Exceptionally elevated surface reliefs, original lustrous Bu/UNC Condition. Artistically designed with striking eye-appeal. Limited Mint.

Country:     Switzerland
Year:           1972
Subject:      Swiss Transport Museum - Icarus
Material:     Silver, Ag (0.900)
Size:           34 mm
Weight:      20 grams
Artist:         Hans Erni

- The Legend of Icarus: -
Icarus's father Daedalus, a very talented and remarkable Athenian craftsman, built the Labyrinth for King Minos of Crete near his palace at Knossos to imprison the Minotaur, a half-man, half-bull monster born of his wife and the Cretan bull. Minos imprisoned Daedalus himself in the labyrinth because he gave Minos's daughter, Ariadne, a clew (or ball of string) in order to help Theseus, the enemy of Minos, to survive the Labyrinth and defeat the Minotaur.

Daedalus fashioned two pairs of wings out of wax and feathers for himself and his son. Daedalus tried his wings first, but before trying to escape the island, he warned his son not to fly too close to the sun, nor too close to the sea, but to follow his path of flight. Overcome by the giddiness that flying lent him, Icarus soared into the sky, but in the process, he came too close to the sun, which due to the heat melted the wax. Icarus kept flapping his wings but soon realized that he had no feathers left and that he was only flapping his bare arms, and so Icarus fell into the sea and drowned in the area which today bears his name, the Icarian Sea near Icaria, an island southwest of Samos.

The legend of Icarus also spark the idiom "don't fly too close to the sun".

- About the Engraver: Hans Erni: -
Hans Erni (February 21, 1909 – March 21, 2015) was a Swiss graphic designer, painter, illustrator, engraver and sculptor. Born in Lucerne, the third of eight siblings, to a cabin cruiser engineer, he studied art at the Académie Julian in Paris and later in Berlin, and admired artists such as Pablo Picasso and Georges Braque.

He is known for having illustrated postage stamps, his lithographs for the Swiss Red Cross, his participation on the Olympic Committee as well as his activism. His 1939 works and first major public success was a mural titled Switzerland: "Vacation Land of the People" was commissioned and displayed for the national exhibition in Zürich.

The Hans Erni Museum, situated in the grounds of the Swiss Museum of Transport in Lucerne, contains a large collection of artwork, he also designed ceramics and theatre costumes and sets. He did the art for Swiss bank notes, in the 1940s but, after the notes were already printed they were never published, because a member of the State Council of Lucerne criticized that Erni was deemed as a communist. However, Erni was never a member of any political party. In 2004, he was awarded the honorary citizenship of the city of Lucerne. On 10 January 2009 he received the SwissAward for lifetime accomplishment.

In his career, he realized about 300 posters and several murals — including for the 1980 Salon international de l'automobile, Red Cross, IOC, United Nations and ICAO. He illustrated about 200 books and created 90 Postage stamps and 25 medals.

   . ~AU'Listings~ .                         .~Au'Medals~.