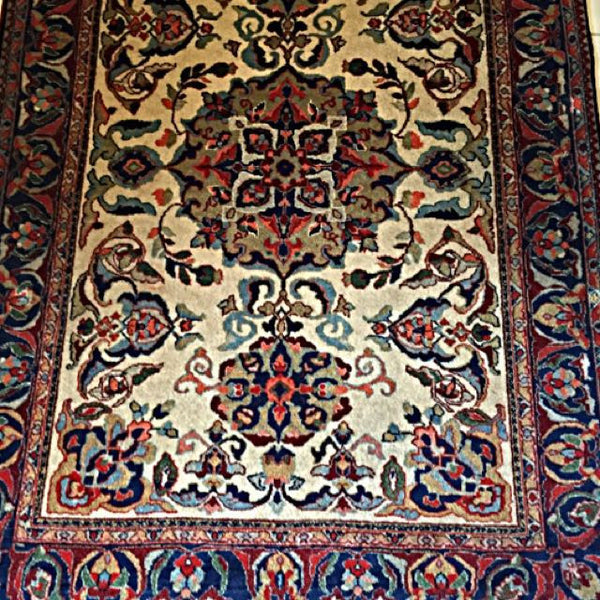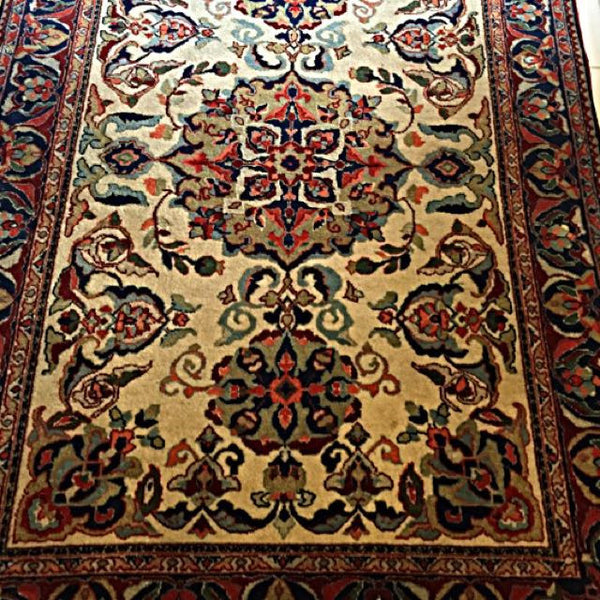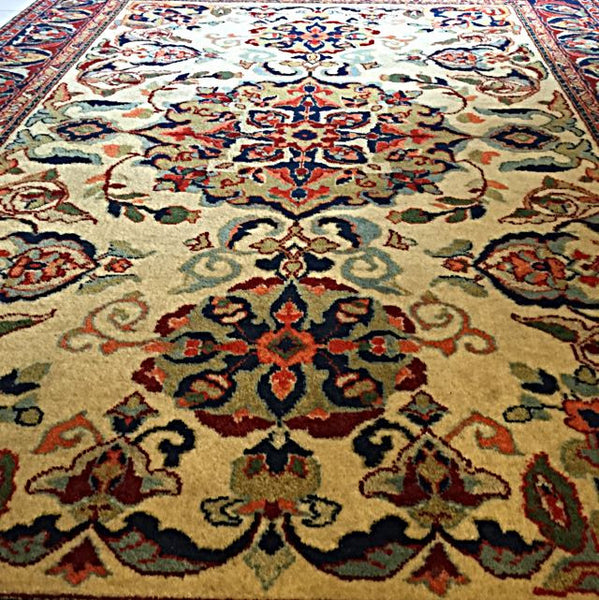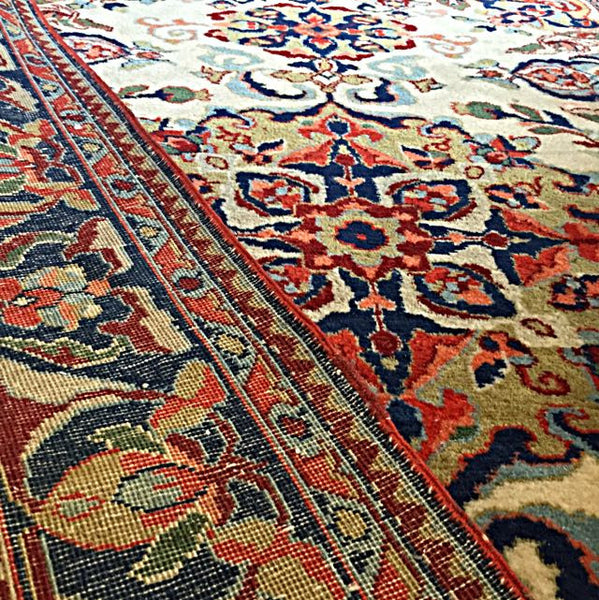 1960's Antique Russian Nomadic Carpet, Beautiful Showpiece, Hand-weaved Rich Dyes Tribal Piece.
1960's Antique Russian Nomadic Carpet, Beautiful Showpiece, Hand-weaved in Rich Dyes Tribal Piece.
Good Medium Size 1.96 x 1.35 M

Hand Weave 

- Made in Tribal Village & NOT in Commercial Mills

Rich Natural Dyes Colors

Beautifully Put Together, Very Finely Made

This Is A Rare Antique Tribal Weave And NOT Commercial Type Carpet

Estimate approx. upwards of 50+ years old!

Excellent Condition

Rich Eye-Appeal

Wool on Wool (Antique Rugs are all of 100% Wool)

Authenticity Guaranteed for Life
Viewing by Appointment Only.
_______________________________________________________
Antique Russian and Caucasian rugs originate from a large and diverse area of the world. The multicultural background of the region is uniquely reflected in the look and feel of the antique textiles originating from this region. While Russia covers a massive area filled with many ethnicities and cultures, the Caucasus region may be even more so. Bordered by Russia, Turkey, and Iran, all of these rug-producing countries have influenced the design and style of these Antique Rugs.
The Caucasus region is one of the most diverse places in the world with over fifty ethnic groups represented. This area has been producing rugs for centuries and has been influenced by the wide range of languages and cultural practices that inform both their weaving techniques and the design patterns. 
As with many antique rugs, utilizing natural materials for the immediate environment was common practice. Whether it was producing dyes or weaving thread, the colors and textures found in Antique Russian and Caucasian rugs are very distinctive. Many of the patterns found in these rugs were energized with strong primary colors that were created from the local landscape. These original details merged with the influential techniques found throughout the region such as the widely popular Turkish knot being used for the majority of Russian and Caucasian rugs.
From the bold color combinations to the sharp edges of the geometric patterns, these rugs deliver a look that is rarely seen. If your space is in need of a lively infusion of movement, color, or design, an Antique Russian or Caucasian rug could bring new life to a stagnant or quiet room. These rugs are finely hand woven and well preserved even after being passed down through the generations.
Caucasian rugs get their name from the area in which they were made - the Caucasus. The Caucasus is a region that produces distinctive rugs since the end of the 18th century and the antique Caucasian rugs are primarily produced as village pieces rather than the fine and intricate city productions. Caucasian rugs are best known for featuring bold geometric and tribal designs in primary colors.
The rugs from the Caucasus are primarily made of materials that are (or were) particular to their tribal provinces and some of the styles that are "typical" or better known to the Caucasus region are Shirvan, Dagestan, Kuba, Kazak rugs. Caucasian Rugs are probably the most widely collected type of antique rugs.
The mountainous region of the Caucasus has been an attested center of rug production since at least the seventeenth and eighteenth centuries. Caucasian carpets of this period are among the great masterpieces of classical or early rug production. In the nineteenth century the Caucasus became a major area of village rug production for export under official Russian control. Chief countries of origin were Kuba, Dagestan, Shirvan, Talish and Baku in the East, and Ganjeh, Kazak, and Karabagh in the southwest Caucasus. While Caucasian carpets tend to feature floral designs, their style or rendering is usually highly abstract or geometric, with considerable emphasis on rich and varied color.
Central Asia is the pre-eminent region for nomadic rug production. Chief among the rug producing Central Asian nomads were the Turkomans, whose work is prized for its precise weave and drawing and meticulous allover repeat designs, although generally in a subdued or restricted palette. Turkoman rugs are often called "Bokara" in the rug trade, after the chief central Asian city from which they were exported to the West. Other central Asia nomads like the Baluch, Uzbeks, and Khirgiz produced bolder designs with a brighter, more varied palette, but their pattern repertory is still closely related to that of the Turkomans. In addition to floor rugs or carpets, many central Asian weaving were made as storage bags and decorative trappings.
Caucasian Soumaks of this type reproduce even these details with remarkable consistency and fidelity. The various smaller motifs used as space fillers seem to come from the common tribal repertory behind most Caucasian and Turkish rugs. The borders of Caucasian Soumaks tend to be made up of small geometric medallions or stylized rosettes, although they can be surprising, as on the example shown here which is adapted from kilim designs.
A second major group of Caucasian Soumaks have allover field designs made up of smaller medallions arranged closely in staggered repetition. Some of these which have multi-pointed star-like configuration (the so-called Crivelli-Star) also come from the repertory of early Turkish rugs. But the oval medallions with undulating edges are floral palmettes of classical Persian derivation.
Despite the varied origins of the design elements, the Soumaks of this group still convey considerable stylistic homogeneity or integrity. The borders of this second group are much the same as those of the first, although the example shown here has a highly unusual border that derives once again from early Turkish rugs.
A third group of Caucasian Soumaks stems from more local traditions. Known as "Dragon Soumaks," these are clearly derived from the classical Caucasian Dragon rugs produced from the end of the sixteenth to the early eighteenth centuries.
The Dragon Rugs themselves were Caucasian workshop productions based on imported Kerman Persian Vase carpets, although the precise area of their manufacture is still unclear. The Soumaks of this kind were probably patterned on the village derivatives of the Dragon rugs that were produced in the Karabagh region during the later eighteenth and early nineteenth centuries.
Another, possibly related type are the Verneh Soumaks that have designs consisting of large, angular S-shaped motifs which are generally thought to be dragons, although in most cases they are no longer recognizable as such.
   . ~AU'Listings~ .                     .~Ou'Antiquities~.

---