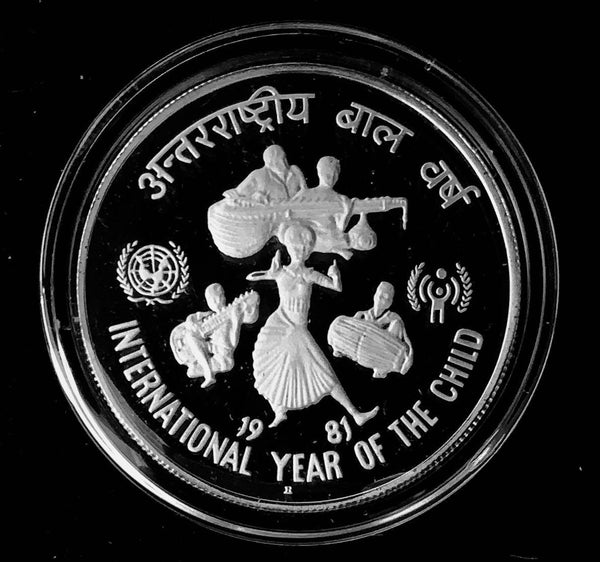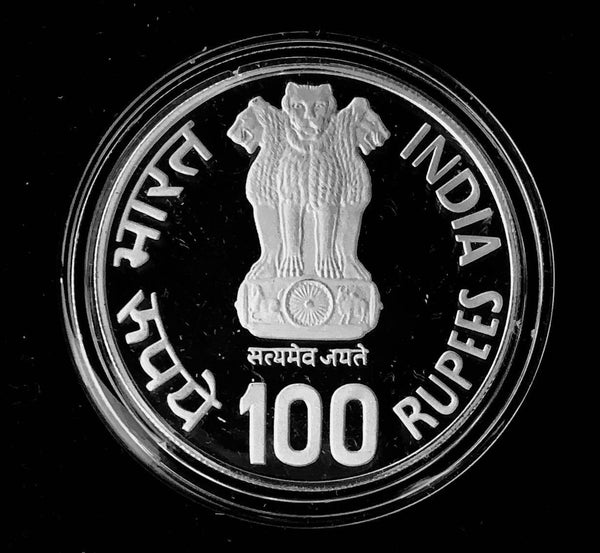 1981 India International Year of the Child - UNESCO, 100-Rupees Silver 925 Proof Large Coin, 44 mm 58.39 Grs.
1981 India International Year of the Child - UNESCO, 100-Rupees Silver 925 Proof Large Coin, 44 mm 58.39 Grs.

Coin is uncirculated mint, proof-struck.
Any marks seen resides on the capsule.

Country.     India
Year.           1981
Value.         100 Rupees
Composition. Silver (.925)
Weight.       58.39 g
Diameter.    44 mm

- Commemorative: International Year of the Child 1981

- Obverse Design.
Asoka lion pedestal, denomination below
Lettering: रूपये भारत INDIA RUPEES 100

- Reverse Design
Native musicians and dancer
Lettering: अन्तरराष्ट्रीय बाल वर्ष 1981
INTERNATIONAL YEAR OF THE CHILD

- International Year of the Child:-
UNESCO proclaimed 1979 as the International Year of the Child. The proclamation was signed on January 1, 1979 by United Nations Secretary General Kurt Waldheim. A follow-up to the 1959 Declaration of the Rights of the Child, the proclamation was intended to draw attention to problems that affected children throughout the world, including malnutrition and lack of access to education. Many of these efforts resulted in the Convention on the Rights of the Child in 1989.

The United Nations Children's Fund is a United Nations agency responsible for providing humanitarian and developmental aid to children worldwide. has Based in U.N. headquarters in New York City, it is among the most widespread and recognizable social welfare organizations in the world, with a presence in 192 countries and territories. UNICEF's activities include immunizations and disease prevention, administering treatment for children and mothers with HIV, enhancing childhood and maternal nutrition, improving sanitation, promoting education, and providing emergency relief in response to disasters.

UNICEF is the successor of the International Children's Emergency Fund (ICEF), created in 1946 by the U.N. Relief Rehabilitation Administration to provide immediate relief to children and mothers affected by World War II. The same year, the U.N. General Assembly established the United Nations International Children's Emergency Fund (UNICEF) to further institutionalize post-war relief work. In 1950, UNICEF's mandate was extended to address the long-term needs of children and women, particularly in developing countries. In 1953, the organization became a permanent part of the United Nations System, and its name was subsequently changed to its current form, though it retains the original acronym.

UNICEF relies entirely on contributions from governments and private donors. Its total income as of 2018 was $5.2 billion, of which two-thirds came from governments; private groups and individuals contributed the rest through national committees. It is governed by a 36-member executive board that establishes policies, approves programs, and oversees administrative and financial plans. The board is made up of government representatives elected by the United Nations Economic and Social Council, usually for three-year terms.

UNICEF's programs emphasize developing community-level services to promote the health and well-being of children. Most of its work is in the field, with a network that includes 150 country offices, headquarters and other facilities and 34 "national committees" that carry out its mission through programs developed with host governments. Seven regional offices provide technical assistance to country offices as needed, while its Supply Division—based in Copenhagen and New York—helps provide over $3 billion in critical aid and services.
    . ~AU'Listings~ .                .~Au'Coins~.   

---