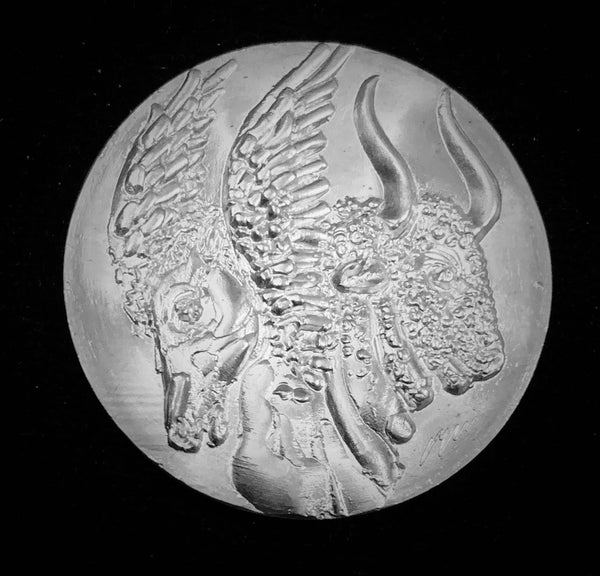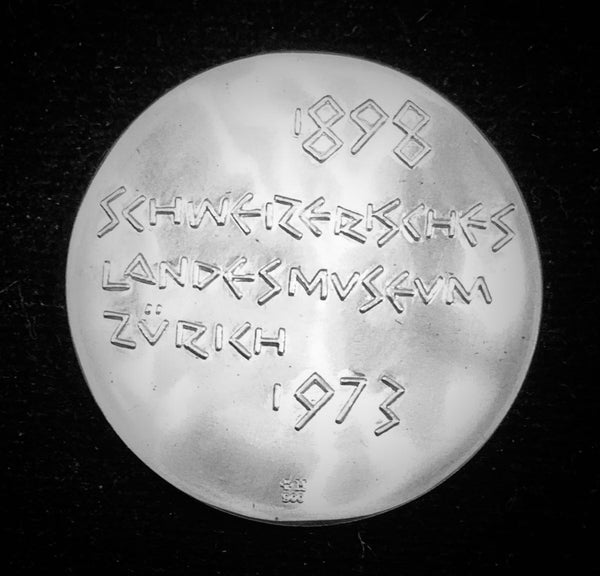 1973 Switzerland "Swiss National Museum Zurich" Hans Erni Silver Medal
1973 Switzerland Swiss National Museum Zurich Hans Erni Silver Medal. Exceptionally elevated surface reliefs, original lustrous Bu/UNC Condition. Artistically designed with striking eye-appeal. Limited Mint.

Country:        Switzerland
Year:              1973
Subject:         Swiss National Museum
Material:        Silver, Ag (0.900)
Size:               34 mm
Weight:          20 grams
Artist:             Hans Erni

- Swiss National Museum Zurich: -
The museum building of 1898 in the historicist style was built by Gustav Gull in the form of the French Renaissance city chateaus. His impressive architecture with dozens of towers, courts and his astonishing park on a peninsula between the rivers Sihl and Limmat has become one of the main sights of the Old City District of Zurich.

The exhibition tour takes the visitor from prehistory through ancient times and the Middle Ages to the 20th century (classic modern art and art of the 16th, 17th and 18th century is settled mainly in the Kunsthaus Museum in a different part of the city of Zurich). There is a very rich section with gothic art, chivalry and a comprehensive collection of liturgical wooden sculptures, panel paintings and carved altars. Zunfthaus zur Meisen near Fraumünster church houses the porcelain and faience collection of the Swiss National Museum. There are also: a Collections Gallery, a place where there are Swiss furnishings being exhibited, an Armoury Tower, a diorama of the Battle of Murten, and a Coin Cabinet showing 14th, 15th, 16th century Swiss coins and even some coins from the Middle Ages.


- About the Engraver: Hans Erni: -
Hans Erni (February 21, 1909 – March 21, 2015) was a Swiss graphic designer, painter, illustrator, engraver and sculptor. Born in Lucerne, the third of eight siblings, to a cabin cruiser engineer, he studied art at the Académie Julian in Paris and later in Berlin, and admired artists such as Pablo Picasso and Georges Braque.

He is known for having illustrated postage stamps, his lithographs for the Swiss Red Cross, his participation on the Olympic Committee as well as his activism. His 1939 works and first major public success was a mural titled Switzerland: "Vacation Land of the People" was commissioned and displayed for the national exhibition in Zürich.

The Hans Erni Museum, situated in the grounds of the Swiss Museum of Transport in Lucerne, contains a large collection of artwork, he also designed ceramics and theatre costumes and sets. He did the art for Swiss bank notes, in the 1940s but, after the notes were already printed they were never published, because a member of the State Council of Lucerne criticized that Erni was deemed as a communist. However, Erni was never a member of any political party. In 2004, he was awarded the honorary citizenship of the city of Lucerne. On 10 January 2009 he received the SwissAward for lifetime accomplishment.

In his career, he realized about 300 posters and several murals — including for the 1980 Salon international de l'automobile, Red Cross, IOC, United Nations and ICAO. He illustrated about 200 books and created 90 Postage stamps and 25 medals.

   . ~AU'Listings~ .                         .~Au'Medals~.   

---